Beef Back Ribs
Here at John Mulls Meats and Road Kill Grill, we are known for the best BBQ in Las Vegas! Come visit us for mouth-watering BBQ! You can eat in or take it to go. OR, if you are more of a cook-at-home person, visit our market for the best cuts of meat, money can buy. Each week, we'll chat about one of our meat cuts, current prices, and we'll recommend a couple of recipes you can use at home! Sounds like fun, right? Let's dive in! This week, beef back ribs recipes!
Our market sells beef back ribs for $4.89/lb with a 5lb minimum order.
So, what exactly are beef back ribs? This cut comes from the front section of the backbone and primarily used for support. Popular cuts from the rib include the ribeye steak and prime rib roasts. Wondering what cooking methods work best? This flavorful cut works great with a dry rub on the grill. Other than grilling, this cut also cooks great in many cooking methods, including, pressure cooking, broil, smoke, and sous vide.
This week, we'll link two recipes: one oven-baked, and one, of course, BBQ recipe.
Oven Beef Back Ribs Recipe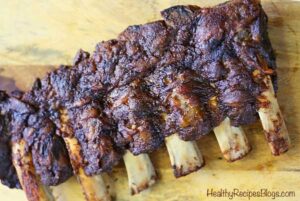 Up first, this oven baked recipe will take a 5 hours of cooking time, and a quick 10 minutes of prep. It's a long process, but well worth it!
Using simple ingredients, leftovers can be reheated for up to 3-4 days. So, what will you need?
This recipe requires:
2 racks beef back ribs (2 lb. each)
½ cup apple cider vinegar
2 tbsp hot pepper sauce
Olive oil spray
2 tsp smoked salt
½ tsp black pepper
2 tsp smoked paprika
1 tsp onion powder
1 tsp garlic powder
If this list seems too extensive, check out our market for a variety of rubs and sauces!
Head over to Healthy Recipes Blog for the full recipe!
Smoked Beef Back Ribs
Our second recipe of the week is a slow-smoked beef back ribs recipe. This easy recipe takes 20 minutes of prep time, and 4 hours of cook time. This recipe requires only three ingredients and promised a simple, yet flavourful rib.
2 racks beef back ribs
½ tbsp black pepper
1/3 cup steak seasoning
We offer a variety of rubs and seasoning, so come in, and chat with us! We will recommend something you're sure to love!
If this recipe interests you, head to Pit Boss Grills for the full recipe!