Brisket
Here at John Mulls Meats and Road Kill Grill, we are known for the best BBQ in Las Vegas! Come visit us for mouth-watering BBQ! You can eat in or take it to go. OR, if you are more of a cook-at-home person, visit our market ! for the best cuts of meat, money can buy. Each week, we'll chat about one of our meat cuts, current prices, and we'll recommend a couple of recipes you can use at home! Sounds like fun, right? Let's dive in! This week, let's talk brisket recipes!
Our market sells brisket for $7.59/lb (12lb minimum) or trimmed brisket for $9.99/lb with a 8lb minimum order.
What is brisket?
Brisket is a cut of beef taken from the breast section of the cow, beneath the first five ribs, behind the foreshank.
What's the best way to cook it?
Brisket tends to be a tougher cut, so the best way to cook it is at lower temperature over a long period of time. Methods such as smoking and braising work best.
Today, well offer two recipes of brisket: a slow cooker option, and a smoked brisket recipe.
Up first, Slow Cooker Beef Brisket with BBQ Sauce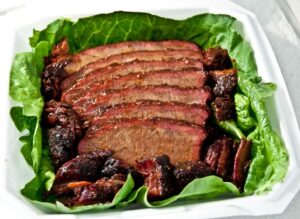 This recipe is recommended to be served with coleslaw or macaroni salad. Did you know we sell sides to go at the Road Kill
This recipe also recommends making a homemade rub, and BBQ sauce. But if you want to cut down on prep time, and also a long ingredient list, check out our market for a variety of sauces and seasonings! This brisket recipe has a prep time of 15 minutes, and a cooking time of 10 hours.
Here's the ingredients:
5-2kg / 3-4lb beef brisket
1 tbsp olive oil
1 tbsp brown sugar
2 tsp paprika powder
1 tsp onion powder
1 tsp garlic powder
½ tsp cumin powder
¾ tsp mustard powder
1 tsp salt
½ tsp black pepper
2 garlic cloves
½ cup apple cider vinegar
1 ½ ketchup
½ cup brown sugar
2 tsp each of black pepper, onion powder, mustard powder
1 tsp cayenne pepper
1 tbsp Worcestershire sauce
Again, keep in mind that you can drastically cut down on the ingredients if you buy store-bought sauce and seasonings!
This is a great recipe for a southern-style dinner, or piled into sliders!
Check out the full recipe on Recipe Tin Eats 
Next up:
The Best Easy Smoked Brisket Recipe Ever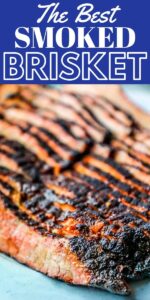 This brisket recipe recommends beans, coleslaw, or potato salad as a side dish. All of which we have at the Road Kill Grill for takeout. Why not cut one thing off your list of to-dos.
This recipe calls for 10 minutes of prep, and 8 hours, 20 minutes of cooking time.
Ingredients:
1- 15 lb brisket
1 cup beer
¼ cup apple cider vinegar
¼ cup beef stock
5 tbsp butter, melted
2 tbsp garlic powder
2 tbsp onion powder
2 tbsp paprika
2 tbsp chili powder
2 tbsp kosher salt
2 tbsp course ground black pepper
1 tbsp brown sugar
If you're missing a few of these spices, come visit us in-store today, and we can recommend a great seasoning in store!
For the full recipe, head over to Sweet C Designs!