Here at John Mulls Meats and Road Kill Grill, we are known for the best BBQ in Las Vegas! Come visit us for mouth-watering BBQ! You can eat in or take it to go. OR, if you are more of a cook at home person, visit our market for the best cuts of meat, money can buy. Each week, we'll chat about one of our meat cuts, current prices, and we'll recommend a couple of recipes you can use at home! Sounds like fun, right? Let's dive in! This week., Chili recipes!
Our market sells chili meat for $5.49/lb
Today, we will cover two make-it-at-home chili recipes.
The Best Classic Chili Recipe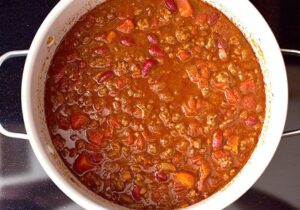 "This classic chili is perfect for a weeknight meal because it can be made in minutes. The only thing to chop is an onion"
With a prep time of only 5 minutes, followed by 25 minute cook time, this recipe is a quick and easy dinner!
Ingredients:
1 tbsp olive oil
1 medium yellow onion, diced
1 pound ground beef
2 ½ tbsp chili powder
2 tbsp ground cumin
2 tbsp granulated sugar
2 tbsp tomato paste
1 tbsp garlic powder
1 ½ tsp salt
½ tsp ground black pepper
¼ tsp ground cayenne pepper
1 ½ cup beef broth
1 (15 oz.) can petite diced tomatoes
1 (16 oz.) can red kidney beans, drained and rinsed
1 (8 oz.) can tomato sauce
If you are planning on feeding kids, it's recommended to skip the cayenne pepper. Then, if you like it spicy, top with some hot sauce. That way it's a WIN WIN!
For the full recipe head over to The Wholesome Dish!
Recipe #2: Clow Cooker Chili Recipe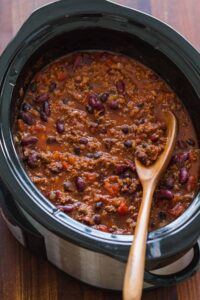 This is another easy chili recipe, that works well any day of the week. The great thing about slow cooker chili is that you can set it and forget it! The low heat allows the flavors to shine, and will be loved by all. Cook on low for 6-8 hours, or high for 3-4.
Ingredients:
2 lb ground beef
1 large diced onion
3 garlic cloves, minced
2 tsp cumin powder
1 ½ tbsp chili powder
1 tsp garlic powder
1 tsp dried oregano
1 ½ tsp salt
½ tsp black pepper
15 oz black beans, drained and rinsed
30 oz kidney beans, drained and rinsed
30 oz diced tomatoes with juices
10 oz diced tomatoes and green chilies, with juices
30 oz tomato sauce
Recommended chili toppings include: cheese of course (which you can purchase here), onion, avocado, cilantro, sour cream, and sliced jalapenos.
For the full recipe, check out Natasha's Kitchen