Okay y'all, by now, I am sure you know the drill. Here at John Mulls Meats and Road Kill Grill, we are known for the best BBQ in Las Vegas! Come visit us for mouth-watering BBQ! You can eat in or take it to go. OR, if you are more of a cook at home person, visit our market  for the best cuts of meat, money can buy. Each week, we'll chat about one of our meat cuts, current prices, and we'll recommend a couple recipes you can use at home! Sounds like fun, right? Let's dive in! This week we'll talk Fajita recipes! Cause… who doesn't love fajitas?
Our market currently sells fajita meat for $9.99/lb
Today, we will cover two make it at home chili recipes. Although these recipes may suggest a different type of meat, we recommend using our fajita meat, however, we sell all types of beef cuts!
Beef Steak Fajitas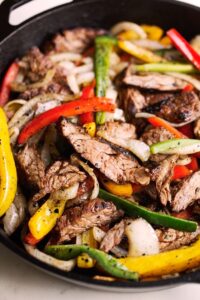 "Classic Tex Mex Fajita recipe, with steak, onions, and bell peppers, and served sizzling hot with fresh tortillas, guacamole, sour cream, and salsa.
This recipe has a higher prep time than most with 70 mins, but a quick 15 minute cook time.
Ingredients:
1 tbsp vegetable oil
1 pound of flank steak, skirt steak, or carne asada
1 large yellow onion, peeled, and slice with the grain. Slice first in half, and then slice off sections a half-inch wide at the widest point.
2-3 bell peppers of various colors, stemmed, seeded, de-ribbed, sliced lengthwise into strips
Salt
Juice of 1 lime
2 tbsp extra virgin olive oil
2 cloves garlic, peeled, minced
½ tsp ground cumin
½ jalapeñ0 pepper, seeded, ribs removed, finely chopped
¼ cup fresh cilantro
If you are planning on feeding kids, maybe skip the spice!
If this recipe piques your interest, check out the full recipe at Simply Recipes!
Now, onto our second recipe of the week!
The Best Steak Fajitas!
This recipe claims to be a fajita GAME CHANGER! You can be the judge!
This recipe also has a long prep time of 3 hours 15 minutes (mostly marinating), and only 15 minutes cooking time!
Ingredients:
1/3 cup lime juice
¼ cup pineapple juice (no sugar added)
2 tbsp Worcestershire sauce
3 tbsp olive oil
1 tbsp minced garlic
2 tsp each: ground cumin, chili powder
1 tsp each: kosher salt, smoked paprika
½ tsp each: black pepper, red pepper flakes
¼ cup chopped cilantro
1 ½ – 2 lbs skirt of flank steak (fajita meat)
1 tbsp oil (high heat)
2 medium white onions, sliced
1 large poblano, ribs and seeds removed then sliced
2-3 bell peppers, thinly sliced (any color!)
Optional: guacamole, salsa, cilantro, salsa verde, sour cream, black beans, rice, tortillas, rice, corn, tomatoes, lettuce, cheese, etc.
For the full recipe, check out Little Spice Jar!