Here at John Mulls Meats and Road Kill Grill, we are known for the best BBQ in Las Vegas! Come visit us for mouth-watering BBQ! You can eat in or take it to go. OR, if you are more of a cook at home person, visit our market for the best cuts of meat, money can buy. Each week, we'll chat about one of our meat cuts, current prices, and we'll recommend a couple of recipes you can use at home! Sounds like fun, right? Let's dive in! This week we'll talk filet mignon!
Our market currently sells filet mignon for $24.99/lb
Today, we will cover two make it at home filet mignon recipes.
The BEST Filet Mignon Recipe Ever with Garlic Herb Compound Butter (reverse sear)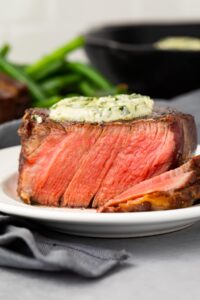 "The best filet mignon you'll ever eat: tender, moist, and oh so juicy".
With a 10 minute prep time, 30 minute cook time, and 30 minute standing time, means dinner in 1:10.
Ingredients:
½ cup unsalted butter- softened
¼ cup fresh parsley- roughly chopped
1- 1 ½ tsp garlic- roughly chopped
2 tbsp shallot- roughly chopped
For the full recipe, check out the full recipe at 40 Aprons!
Now, onto our second recipe of the week!
Filet Mignon Recipe in Mushroom Sauce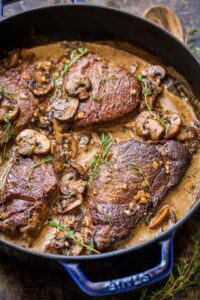 "This pan-seared Filet Mignon recipe really and truly is an excellent way to make filet mignon. Searing the beef makes it melt-in-your mouth tender and every bite is so flavorful in that mushroom wine cream sauce"
According to the website, its best served with creamy mashed potatoes and asparagus!
Only five minutes of prep time, and 25 minutes cook time, means dinner on the table in 30 minutes!
Ingredients:
16 oz baby bella mushrooms- thickly sliced
1 small onion- finely diced
1 tbsp fresh thyme minced (or 1 tsp dry thyme)
24 oz filet mignon steaks, 6-8 oz each, about 1 ½ thick
½ cup merlot wine or any dry red wine
Does this recipe look good? Then check out Natasha's Kitchen for the full recipe!