Here at John Mulls Meats and Road Kill Grill, we are known for the best BBQ in Las Vegas! Come visit us for mouth-watering BBQ! You can eat in or take it to go. OR, if you are more of a cook at home person, visit our market for the best cuts of meat, money can buy. Each week, we'll chat about one of our meat cuts, current prices, and we'll recommend a couple recipes you can use at home! Sounds like fun, right? Let's dive in! This week we'll talk Jerky!
Our market currently sells Jerky Meat for $10.99/lb
Today, we will cover two make it at home Jerky recipes.
The Best Homemade Beef Jerky Recipe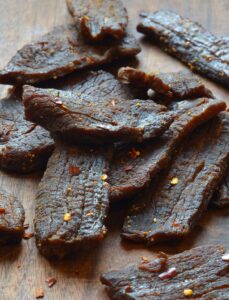 "This is the best homemade beef jerky recipe, and it's easy to make without any special equipment".
This recipe requires 3o minutes of prep time, and 2 hours of cooking time.
** this recipe needs at least 12 hours to marinade.
Ingredients:
One 3 pound eye of round roast, trimmed of fat and silver skin. However, we recommend using our jerky meat! https://johnmullsmeatcompany.com/product/jerky-meat/
1 cup (packed) brown sugar
1 cup soy sauce
3 tbsp Worcestershire sauce
1 tbsp smoked paprika
1 tsp unseasoned meat tenderizer
1 tsp black pepper
1 tsp red pepper flakes
1 tsp onion powder
½ tsp garlic powder
For the full recipe, check out the full recipe at Once Upon a Chef
Now, onto our second recipe of the week!
The BEST Beef Jerky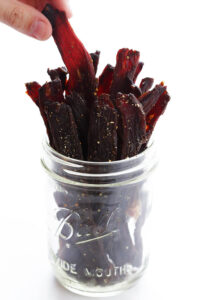 "This truly is the BEST beef jerky recipe! It's full of awesome savory flavors, includes no added sweeteners, and it's irresistibly delicious!"
According to the website, this recipe requires 10 minutes of prep time, and 8 hours of cook time. So, this recipe is timely, however, simple!
Ingredients:
2 pounds flank steak (or our fajita meat!)
½ cup low-sodium soy sauce
2 tbsp Worcestershire sauce
2 tsp coarsely-ground black pepper
1 tsp liquid smoke
1 tsp onion powder
1 tsp seasoned salt
½ tsp garlic powder
Does this recipe look good? Then check out Gimme Some Oven for the full recipe rundown!