Okay, everyone, it's time for this week's recipes! Here at John Mulls Meats and Road Kill Grill, we are known for the best BBQ in Las Vegas! Come visit us for mouth-watering BBQ! You can eat in or take it to go. OR, if you are more of a cook at home person, visit our market (https://johnmullsmeatcompany.com/product-category/john-mulls-meats/)for the best cuts of meat, money can buy. Each week, we'll chat about one of our meat cuts, current prices, and we'll recommend a couple of recipes you can use at home! Sounds like fun, right? Let's dive in! This week we'll talk porterhouse steak recipes!
Our market currently sells porterhouse for $15.59/lb
Today, we will cover two make it at home porterhouse steak recipes.
Perfect Porterhouse Steak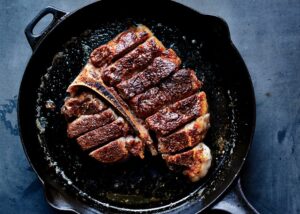 This is chef Bobby Flay's recipe for the perfect Porterhouse steak.
Ingredients:
2" thick porterhouse steak, trimmed (about 2lbs)
1 tbsp vegetable oil
Kosher salt and freshly ground black pepper
3 tbsp unsalted butter, room temp.
For the full recipe, check out Bobby Flay's full recipe at Bon Appetit!
Now, onto our second recipe of the week!
Porterhouse Steak with Herbed Butter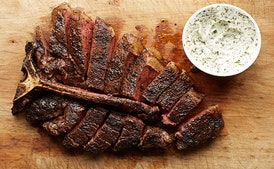 This recipe makes 6-8 servings, 20 minutes of active time, and a total time of 40 minutes. This recipe is great for weeknights, and weekends!
Ingredients:
¼ cup mixed fresh herbs, such as chives, thyme leaves, and marjoram leaves, finely chopped
unsalted butter, room temp
Kosher salt
Freshly ground black pepper
2 porterhouse steaks (2 inch thick) about 4 pounds
2 tbsp vegetable oil
Does this recipe seem more your style? If so, make sure to check out the full recipe at Epicurious!